12.14.22 2nd grade Lexia Superstars

Week of 12.5.22 Lexia Superstars! #shinebrightlikeascholar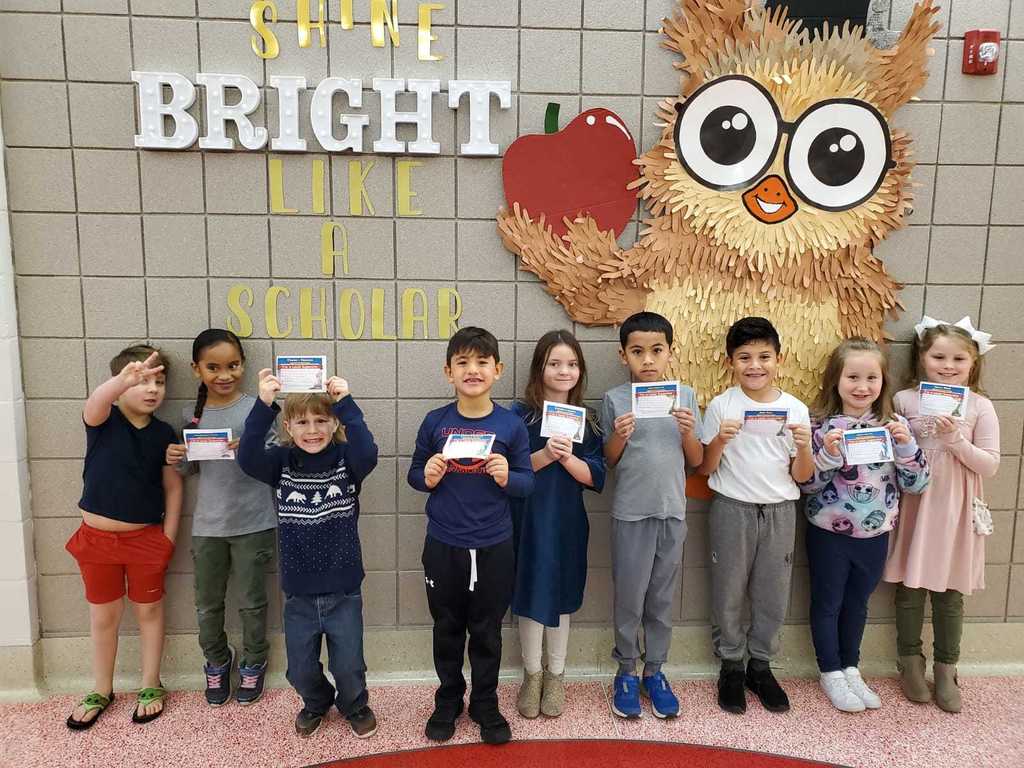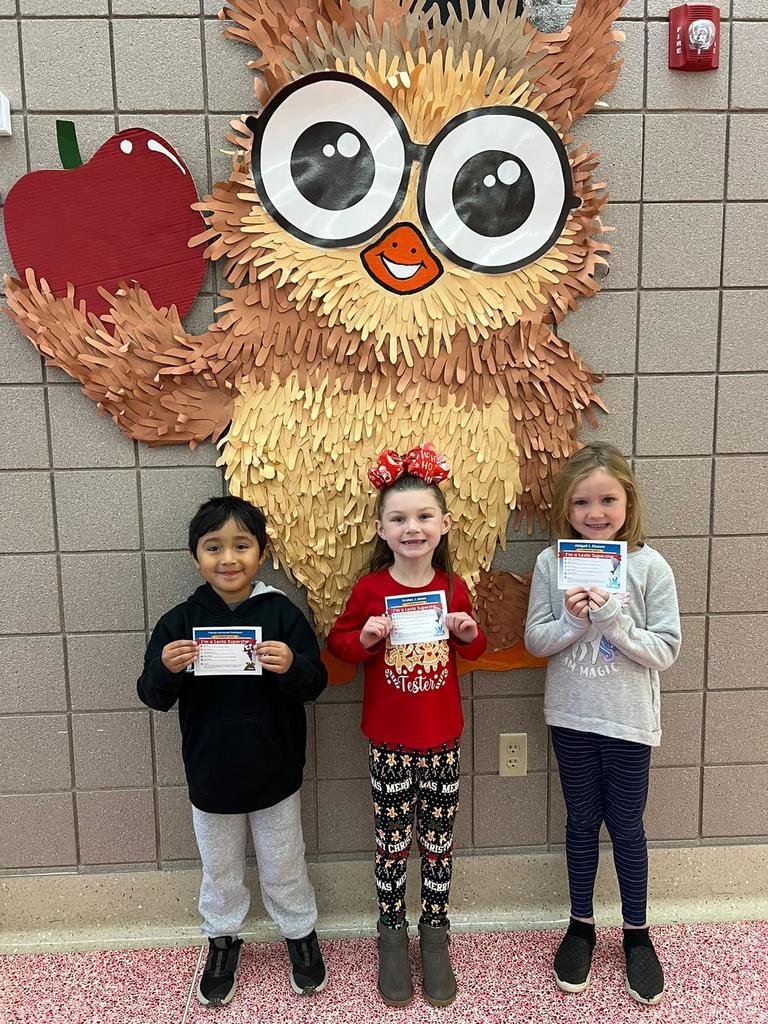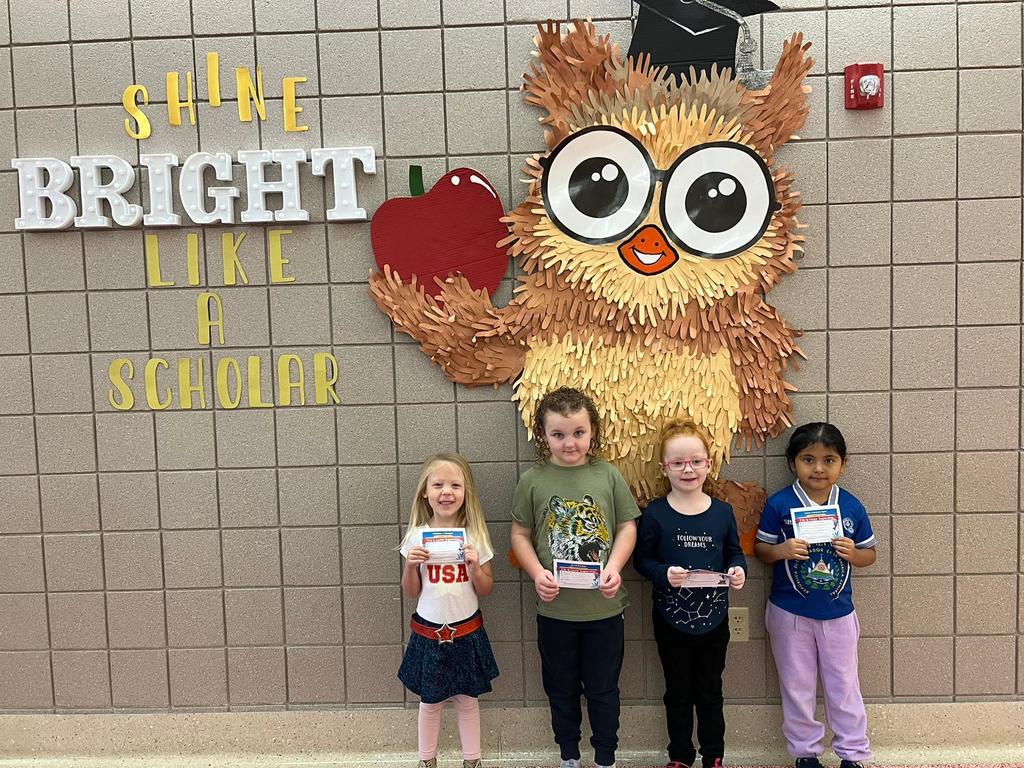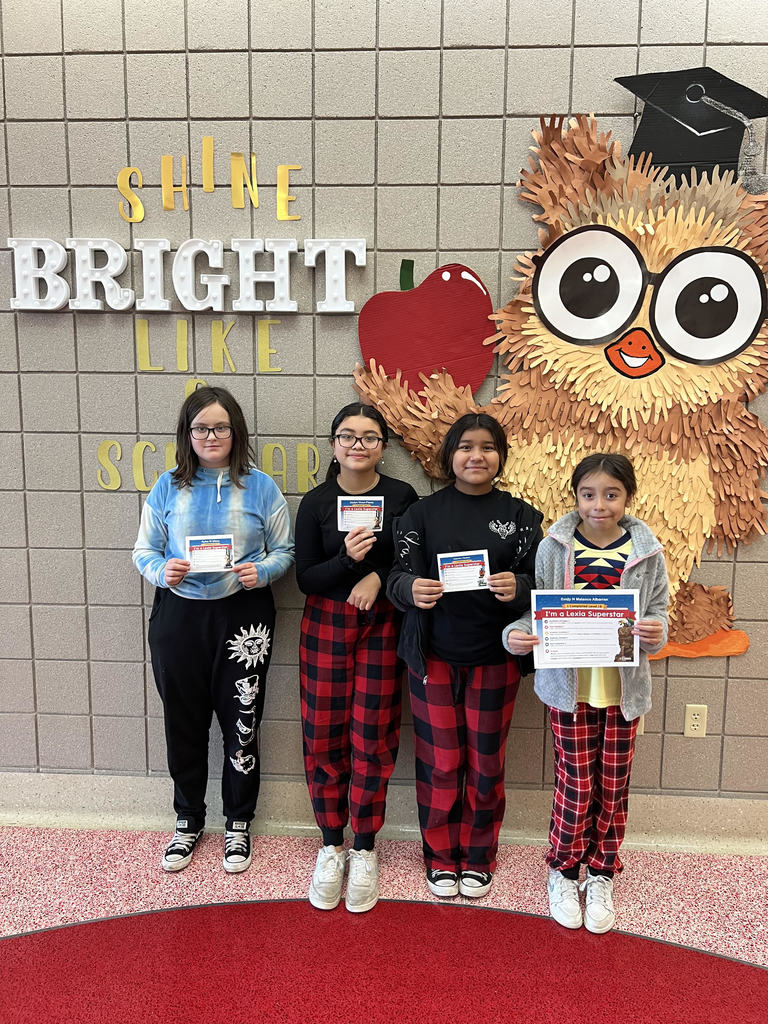 Shining Bright Award 12.9.22 Mrs. Johnson Nominated by Aiden "She is so caring to kids when they need help or if they are feeling mad or sad."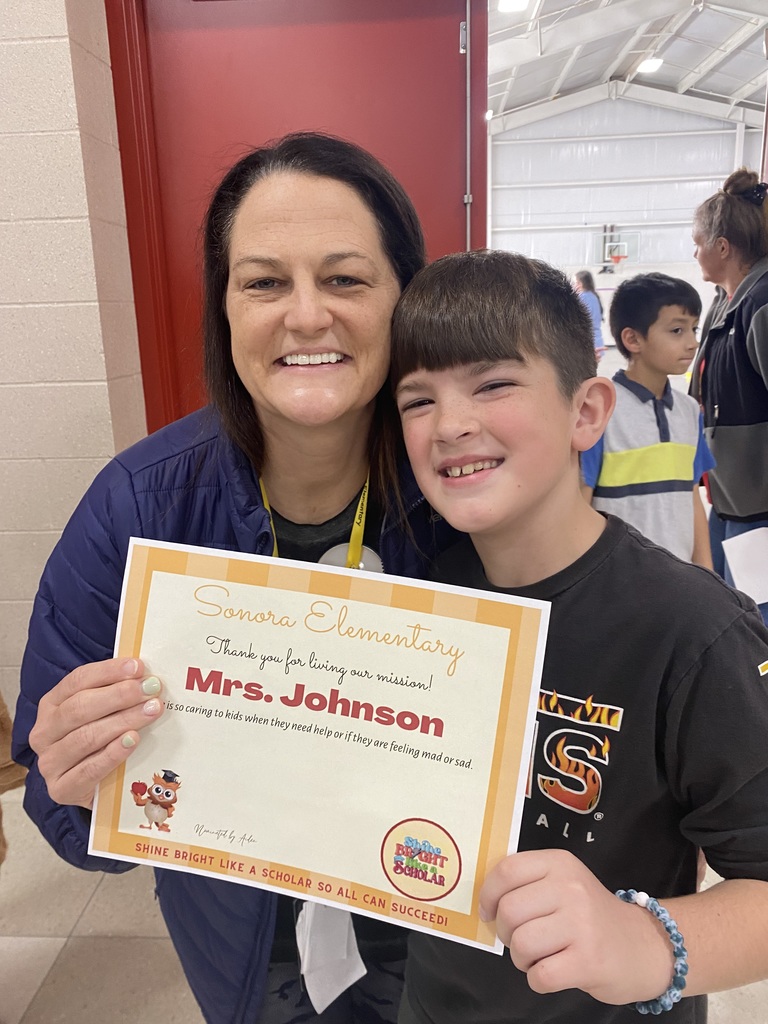 Shining Bright Award 12.9.22 Mrs. Christy Nominated by Rochelle Goff "For just being the awesome person she is. We had a child get sick in the lunch line, which caused one of our lines to shut down. Christy did not panic; she helped us get all the kids switched to the other line. Even though this caused a little confusion for the students, she kept smiling and cheerful and directed them to get their lunch. Christy is a shining star every day but this day she just shined a little brighter."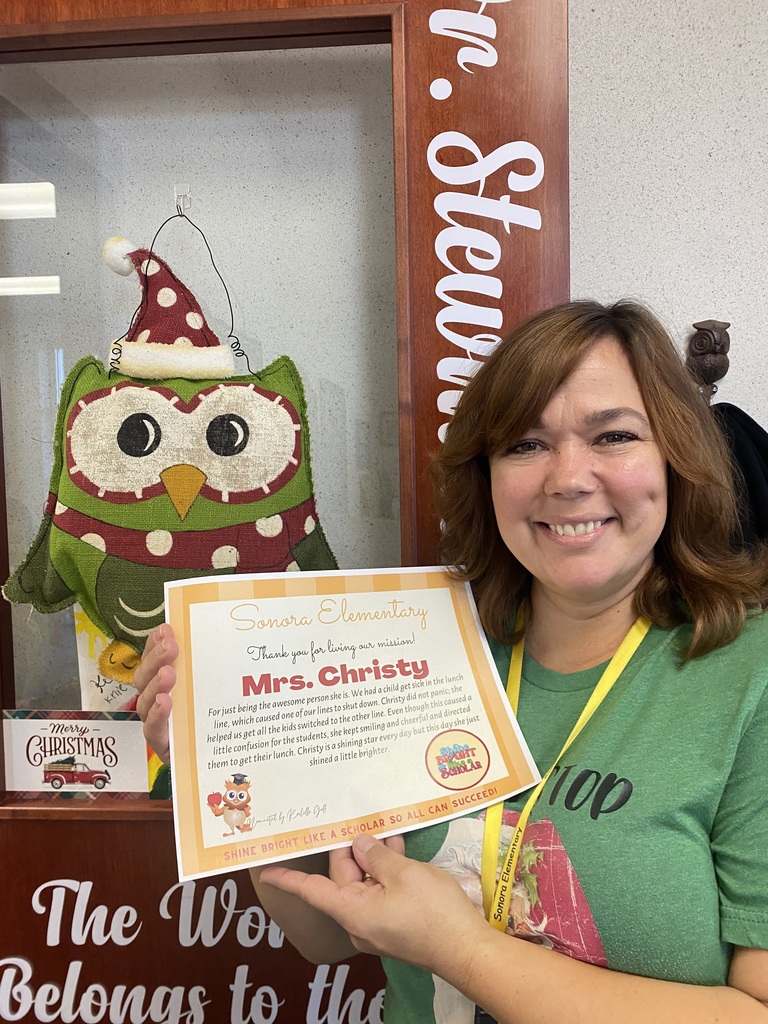 Shining Bright Award 12.8.22 Mrs. Harp Nominated by a Grateful Teacher "Mrs. Harp eats, sleeps, and breathes for the kids at Sonora. She is constantly looking for ways to bring more social emotional learning training to the staff. She doesn't just talk the talk but she truly believes it and models it for us daily. I wouldn't be the teacher I am today without her guidance, love, and support."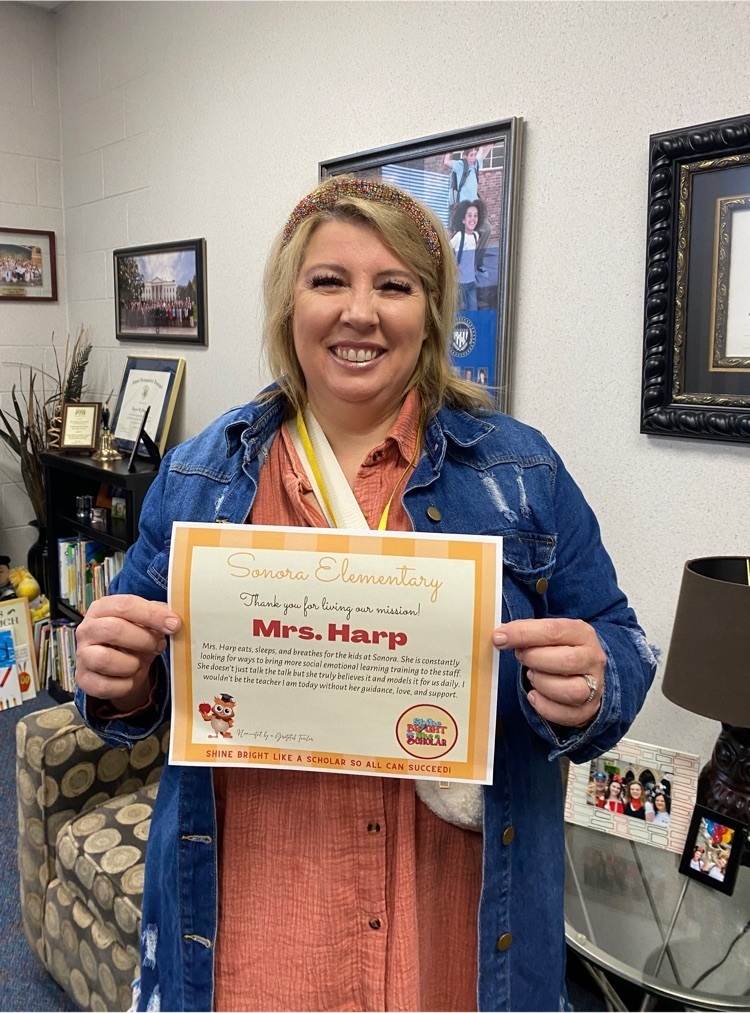 Shining Bright Award 12.8.22 Mr. Worthy "Mr. Worthy is one of the hardest workers at Sonora. He is a mentor in and outside of the classroom. He is always looking at how to take his EAST program to the next level. He is a true example of shining bright."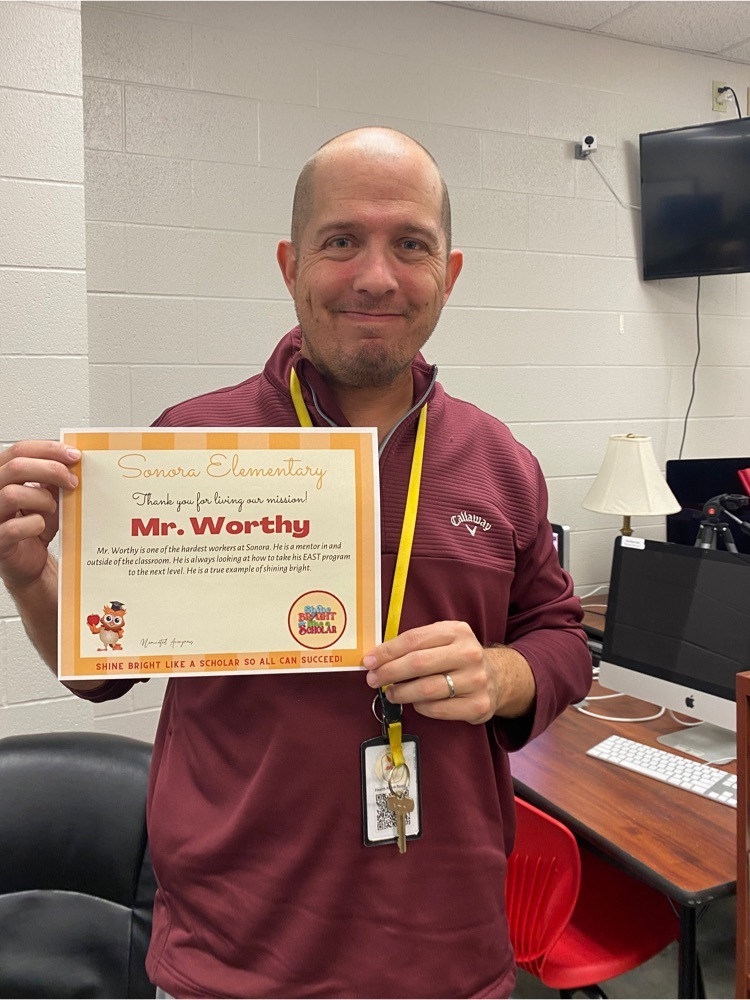 Shining Bright Award 12/6/22 Mrs. Gerstenkorn, Mrs. Ordonez, Ms. Weatherbee, Mrs. Barton, Mrs. Beasley Nominated by Olivia Rothmeyer "Our paraprofessionals go above and beyond! Each one of these ladies work to provide a positive and encouraging classroom environment while modeling appropriate behaviors all day long! From adaptive skills to communication, our students would not make the gains that they do without their daily support! "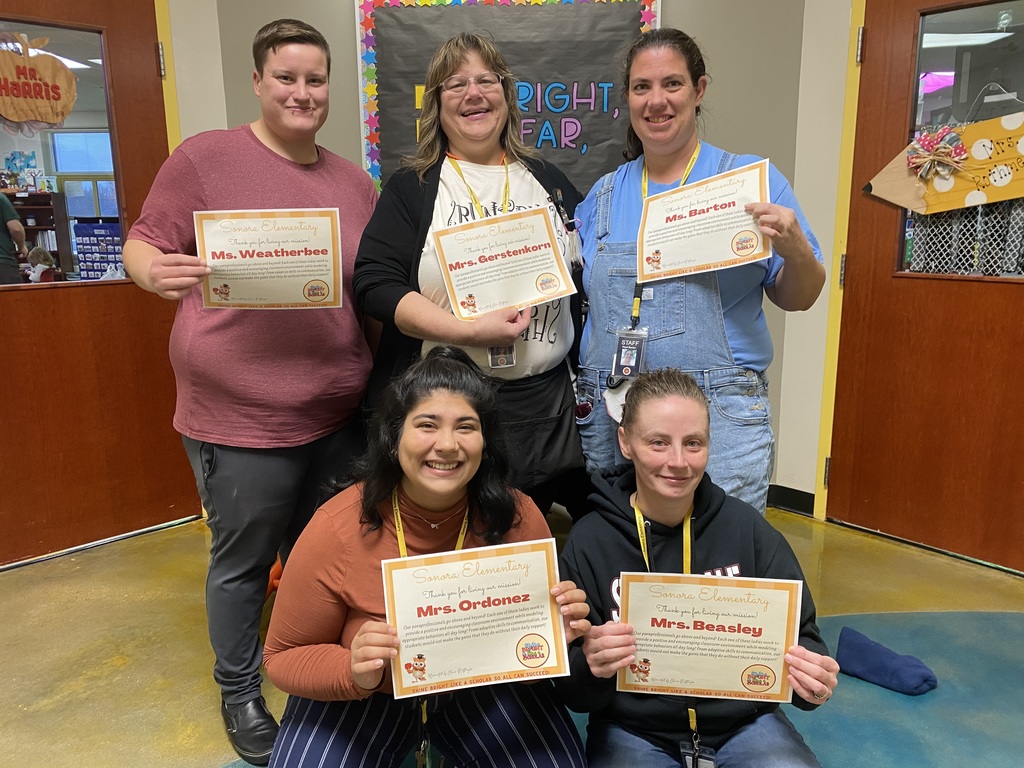 Shining Bright Award 12/6.22 Mrs. Schafer Nominated by Sophia Hallmark "She gives great hugs and encouragement. I'm so thankful for her dedication to Girls on the Run and our school 💜"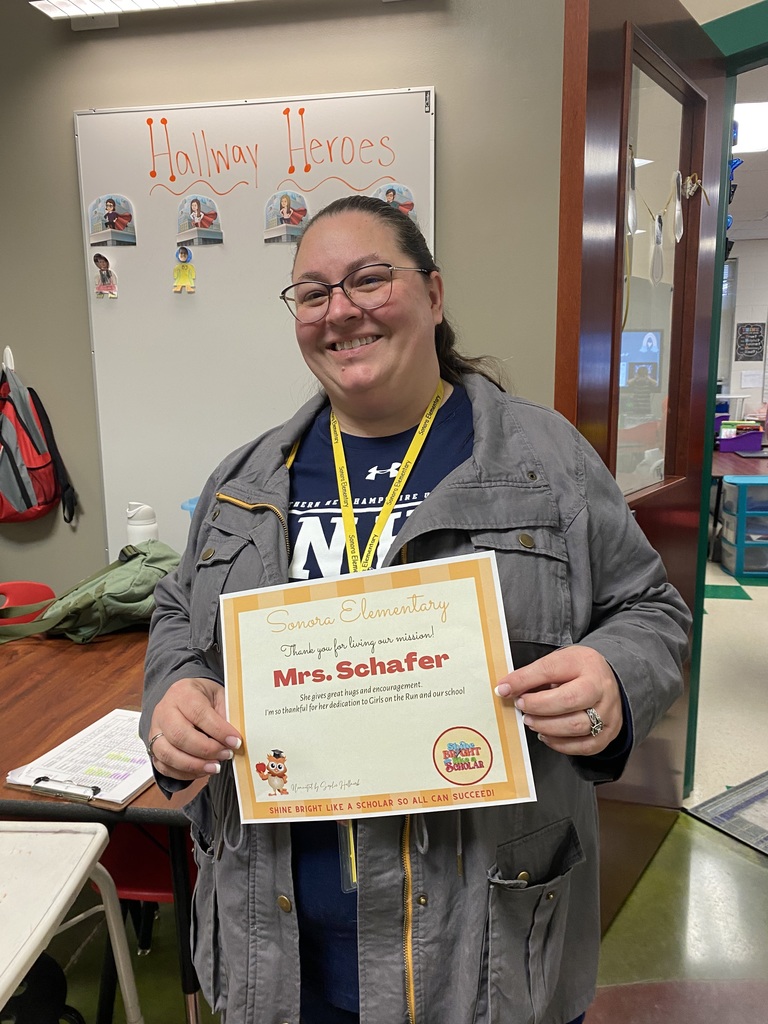 Shining Bright Award 12.6.22 Mrs. Goff Nominated by Sonora PTA "Rochelle is a bright start to every scholars morning! She greats them with love and kindness daily! Not only does she ensure our scholars have some of the best nutrition around, she loves on the teachers and staff at Sonora by providing refreshments and treats in the lounge! She truly has a heart of gold and is amazing in so many ways 💛"

Shining Bright Award 12.6.22 Mrs. Raines Nominated by Carsen Hallmark "She's always in a happy mood and tries to rally students to be in a good mood as well. If we're in a pickle she tries to help us with our problems. She has fun and creative ways to make our days great 💜"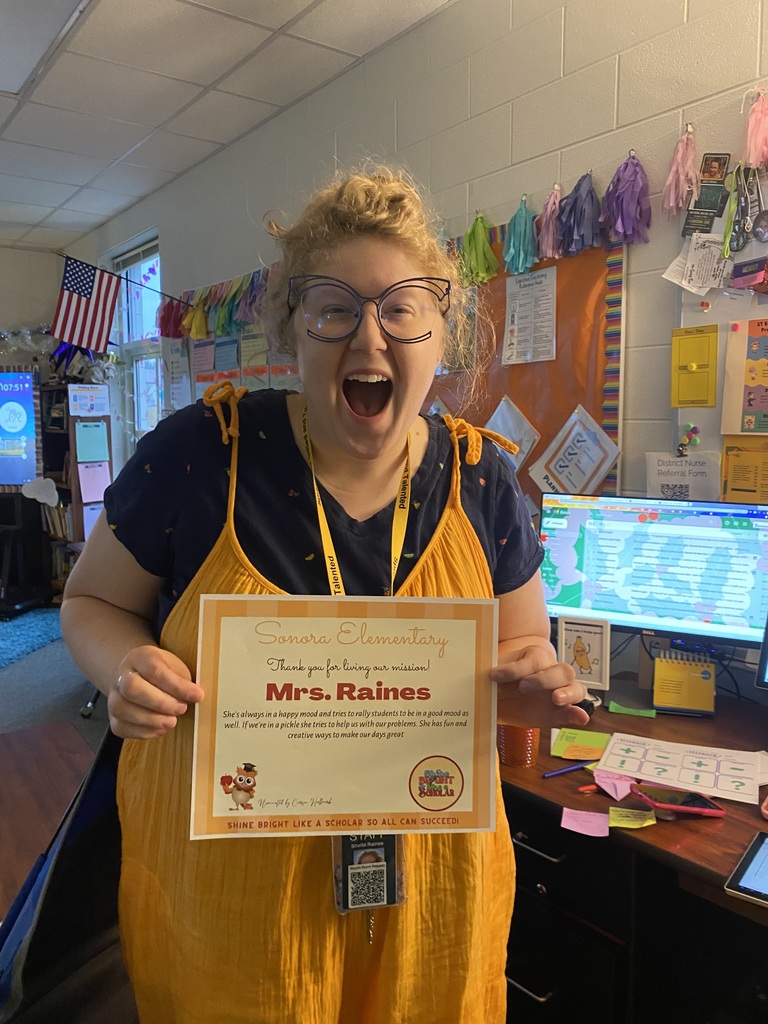 Shining Bright Award 12/5/22 Mrs. Sandy Nominated by Kierra McBride "She always goes the extra mile to make sure my child reaches her best self and achieve those goals on top of helping me not feel like I'm failing. We work together to see what learning fits the needs !!! She is always phone call away!"

Today, 2nd graders in Mrs. Spaulding's class were highlighted as authors. They have been working on narrative writing, with dialogue, characters, beginning/middle/end, etc. Their families joined us this morning to celebrate our scholarly authors! #shiningbrightlikeascholar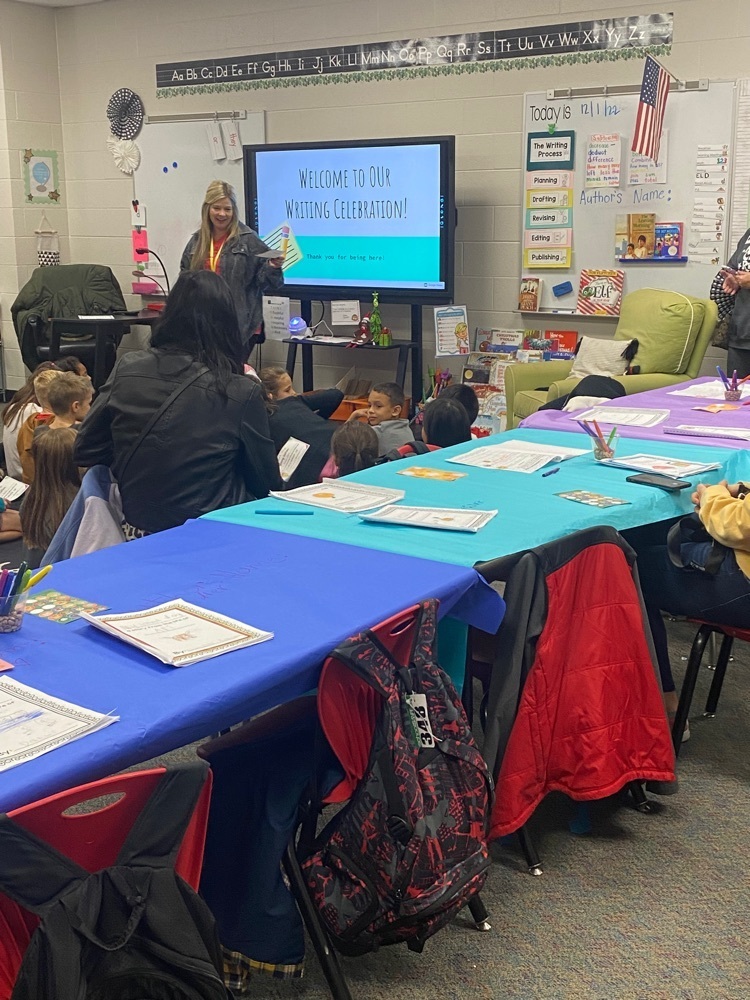 12.2.22 5th grade Lexia Superstars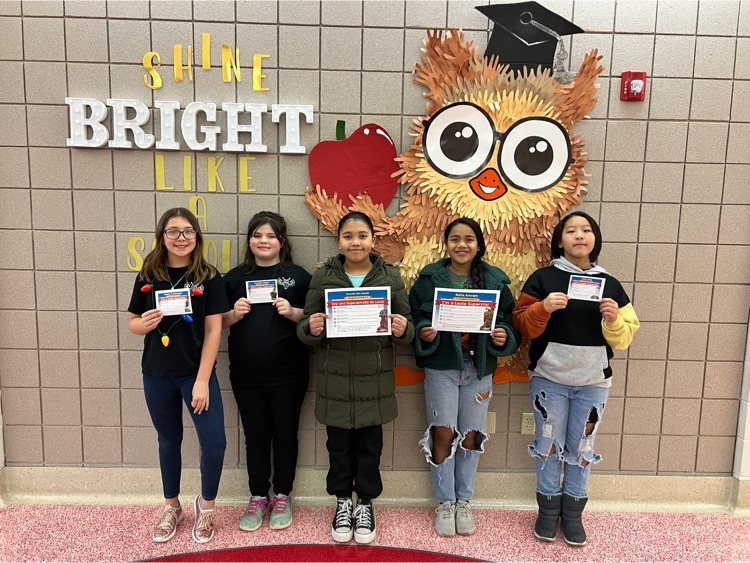 Shining Bright Award 12.2.22 Mrs. Whittle Nominated by Michael Sanders "Ms. Whittle goes above and beyond to make sure all students are having fun when reading.

Shining Bright Awards 12.1.22 Ms. Hendley Nominated by Caran Lynn & Famliy "Mrs Hendley helps Caran to improve in math and science. Thanks for your hard work."

Shining Bright Awards 12.1.22 Mrs. Hendrickson "Ms.Hendrickson is such an amazing teacher. She goes above and beyond for her students. She is a really patient and caring teacher. She really cares about my education and health. Thank you for being patient with me. Thank you for inspiring and encouraging me to be the best than I can be. You are one special teacher. " Jonathan Arriaza

Shining Bright Awards 12.1.22 Mrs. Carter "Nurse Christy is not just the best nurse there is, but she is also an extraordinary and sweet person. She always goes above and beyond on everything she does; she is not afraid to take that extra mile. Thank You for taking such good care of my health and my overall school life." Jonathan Arriaza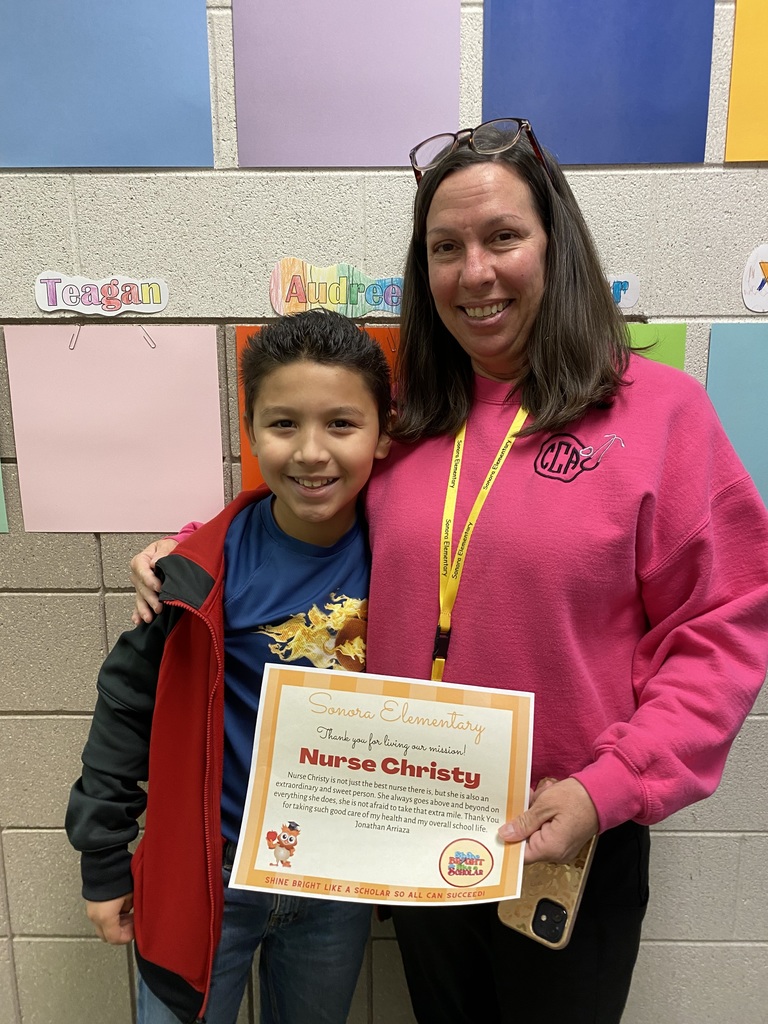 Lexia Superstars for 11/29, 11/30 & 12/1 First grade, Second grade, Third grade, Fourth grade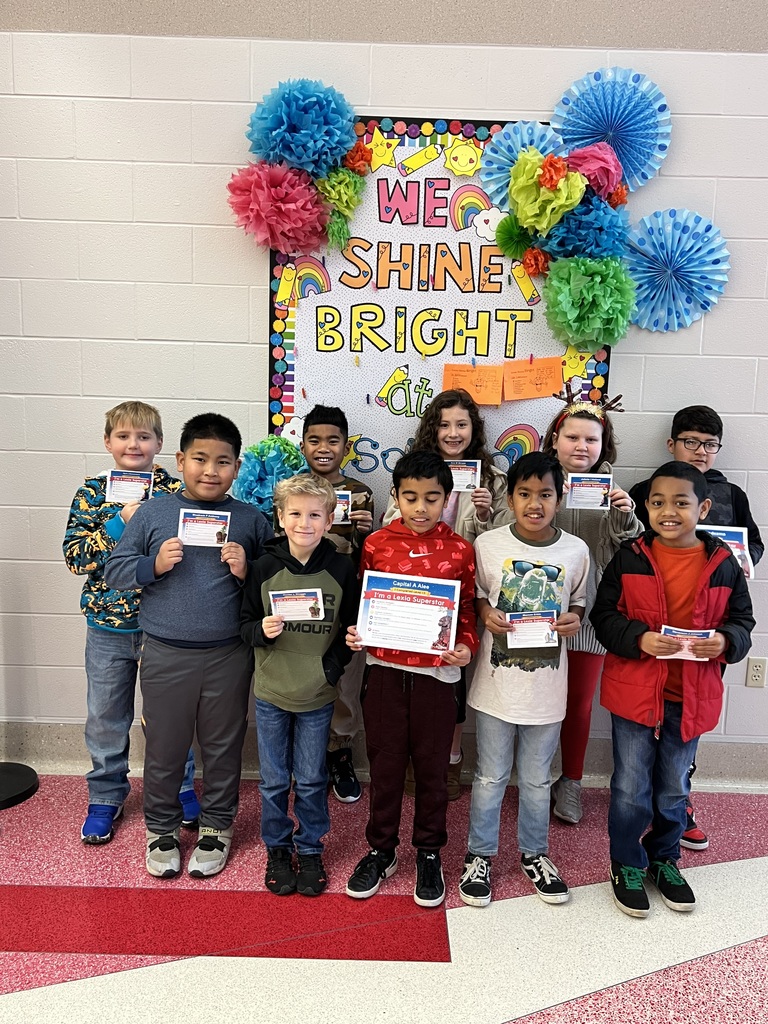 11.30.22 Second Graders Lexia superstars shining bright! ☀️

Shining Bright Award 11.29.22 Mrs. Price Nominated by Ryla Foltz "Always taking time to listen to her students and guide them socially and academically! We love you hard!!"