Our lost and found is starting to get full again! Please remember to label jackets, gloves, scarves, and water bottles. Parents you are more than welcome to come in to the office and look for your students items.
Veterans program November 10th. Veterans and families encouraged to attend! Programa de Veteranos 10 de Noviembre. Veteranos y familiares están bienvenidos a asistir!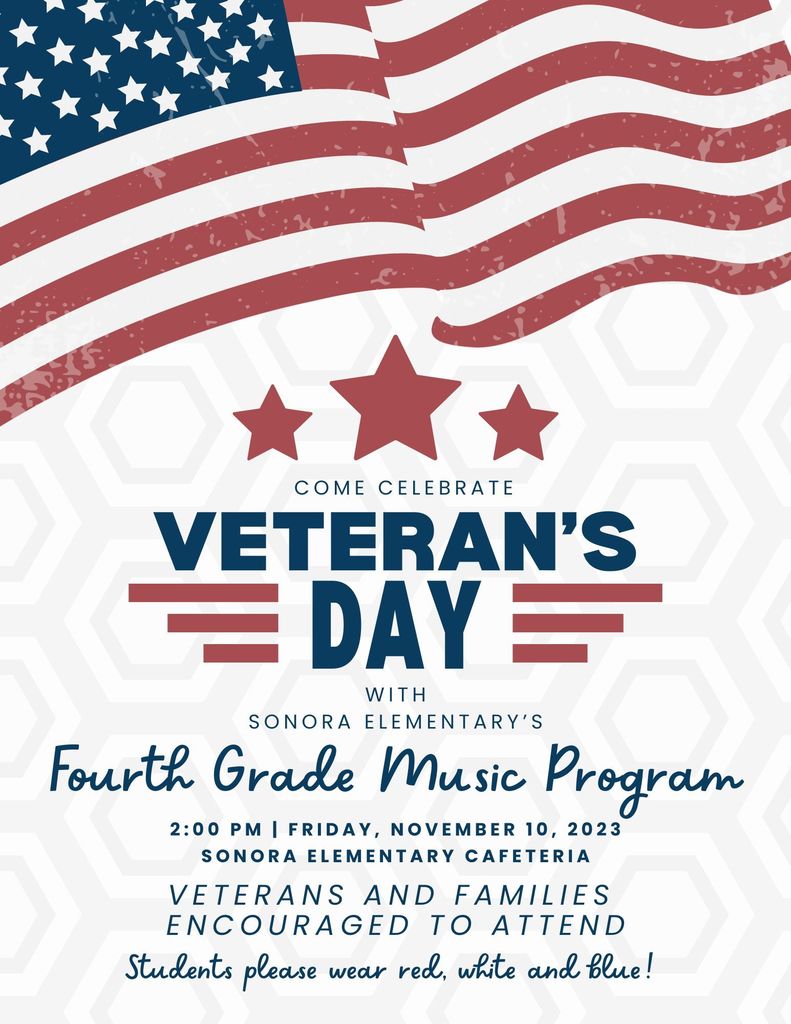 📢 Just a reminder 📢 NO COINS with the chocolate bars. Cash or checks made out to Sonora Elementary PTA please!! 📢 Sólo un recordatorio 📢 NO MONEDAS con las barras de chocolate. ¡¡Efectivo o cheques a nombre de Sonora Elementary PTA, por favor!!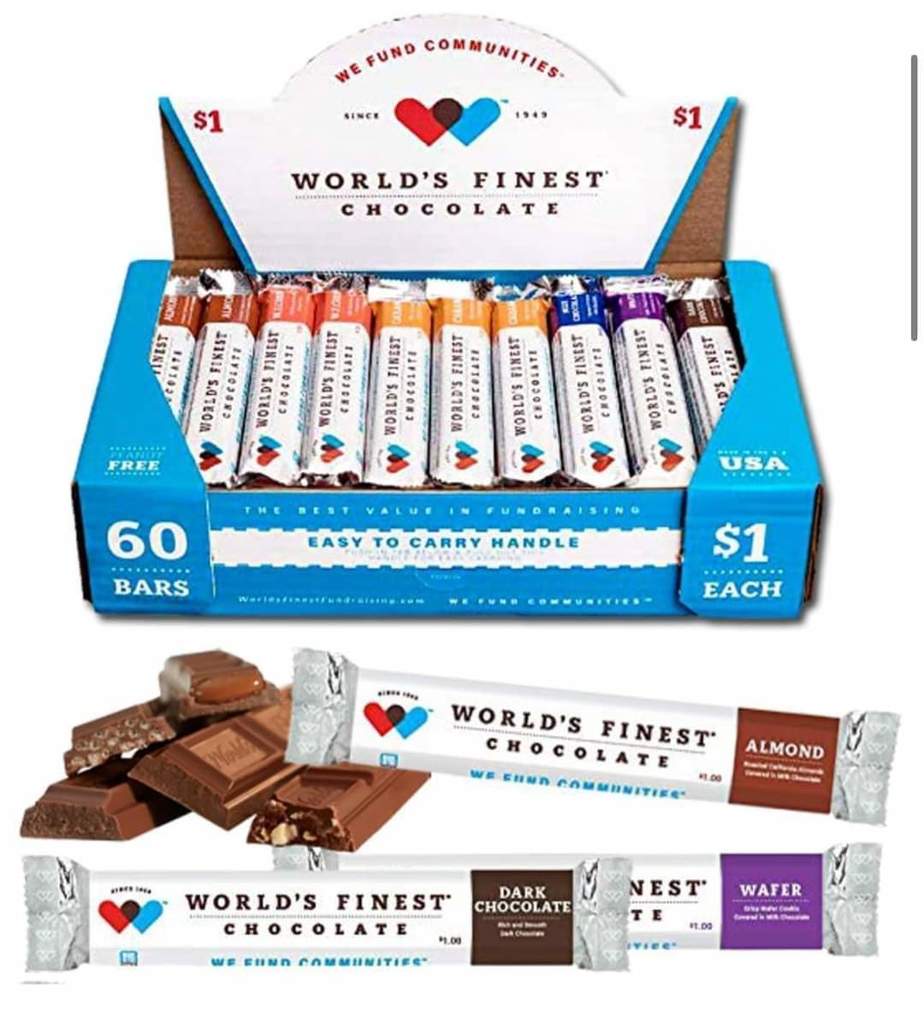 CRAZY HAT DAY FRIDAY 10/27!!! SOMBRERO LOCO ESTE VIERNES 10/27!!!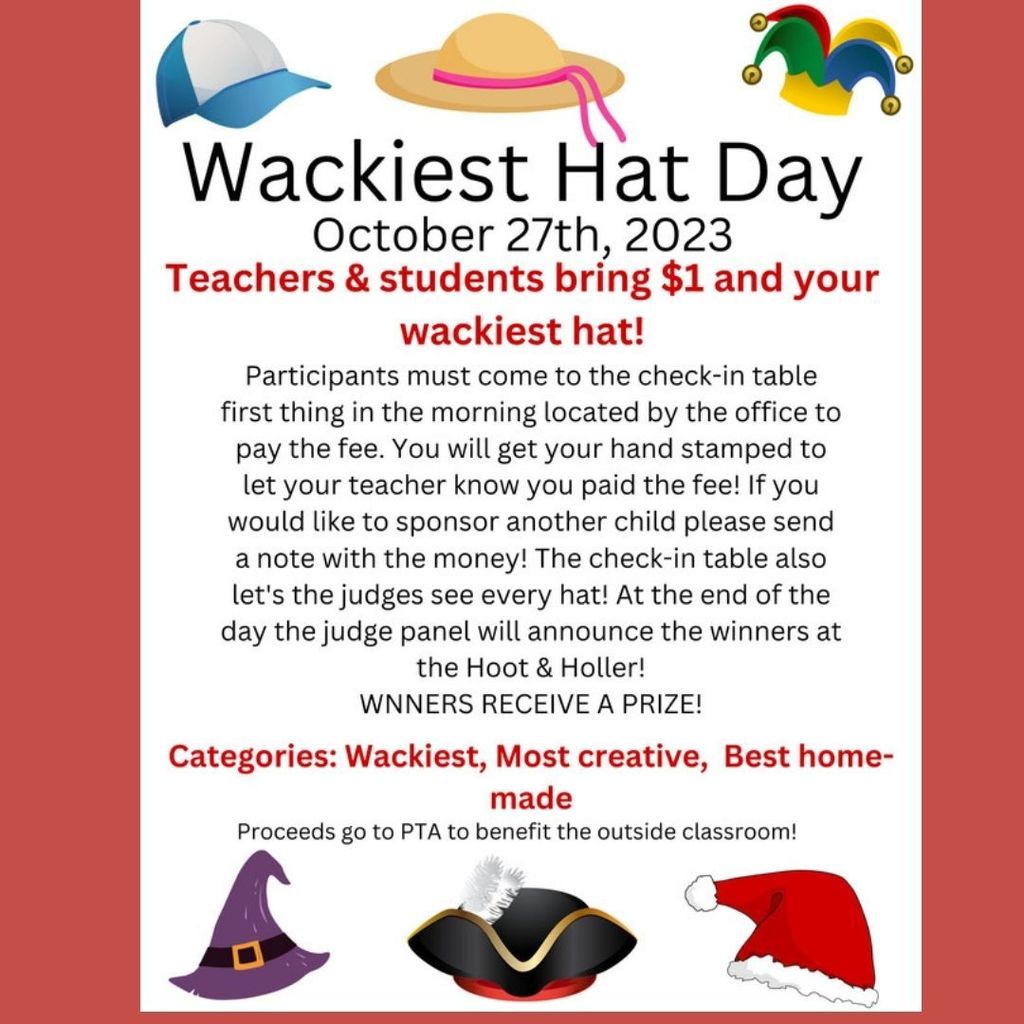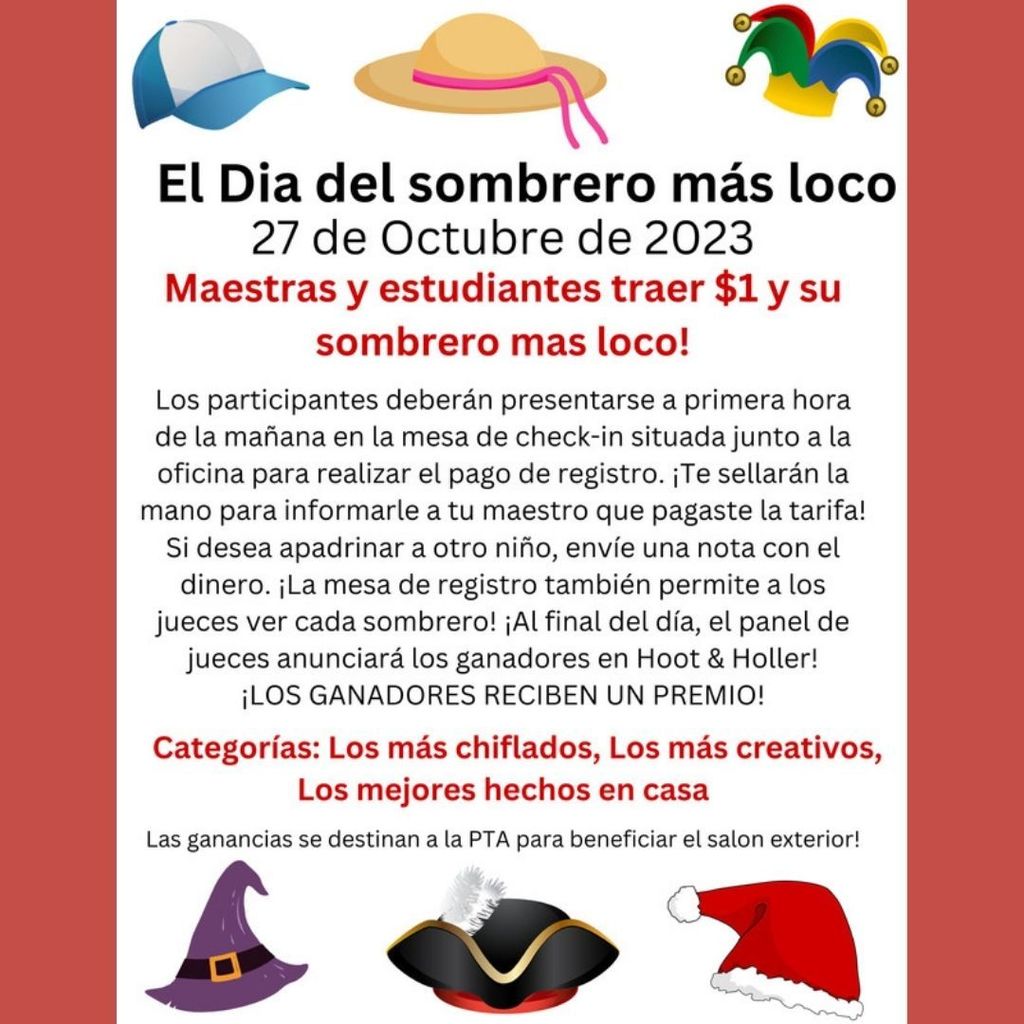 THURSDAY AND FRIDAY! JUEVES Y VIERNES!
Oz-Some Scholar Award 10.23.23 Mr. Richardson Nominated by Mrs. Reed "Mr. Richardson allowed me into his classroom to help a couple of students that have been struggling with behavior in his class. It was so much fun watching my class echoing songs and having fun."
Oz-Some Scholar 10.18.23 Nominated by Rochelle Goff "Jane is a very artistic person; I asked her if she would make the kitchen some fall decorations and without hesitation she agreed. Over the weekend she made these beautiful arrangements. Thank you, Jane, for giving your time, and your talent, and being the loving person you are. "

It's almost time for our Book Character Parade! More information coming soon in next Tuesday's folders!

REMINDERS FOR THIS WEEK!!! RECORDATORIOS DE ESTA SEMANA!!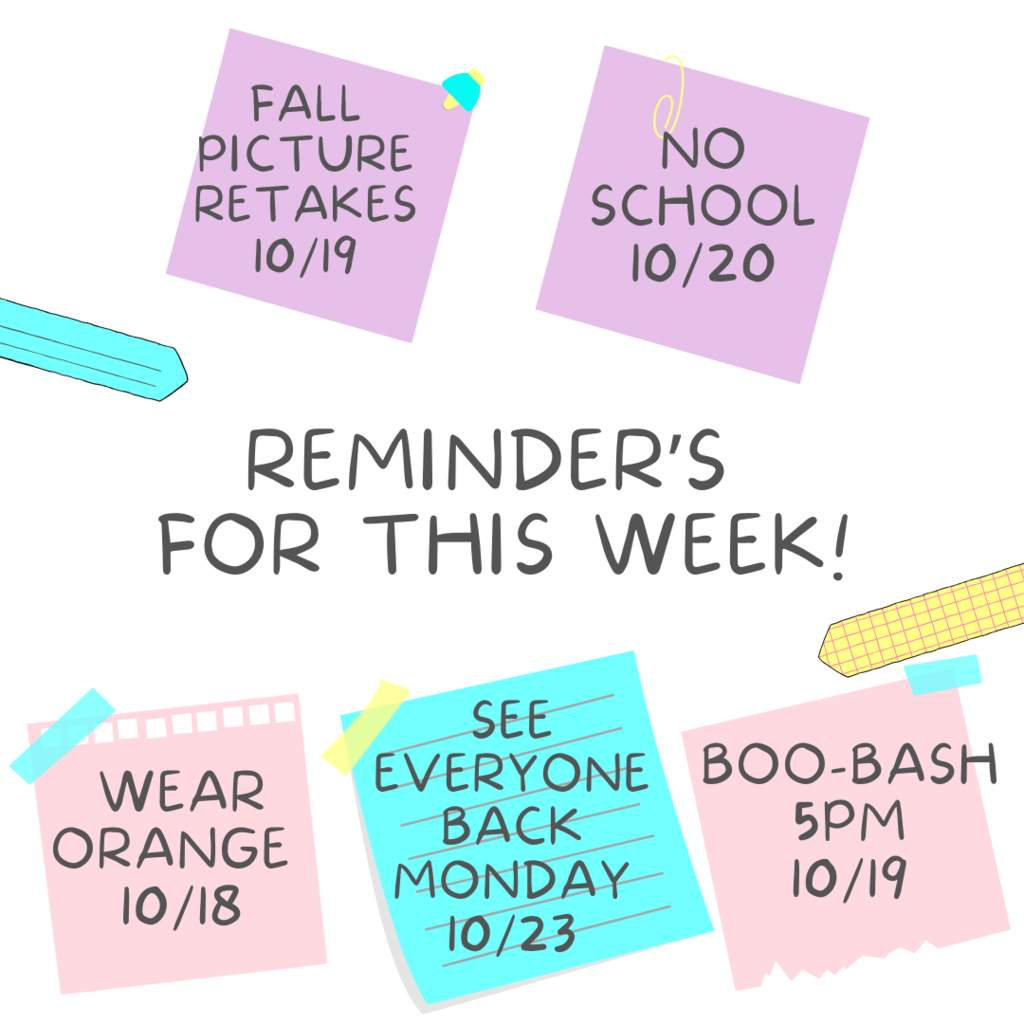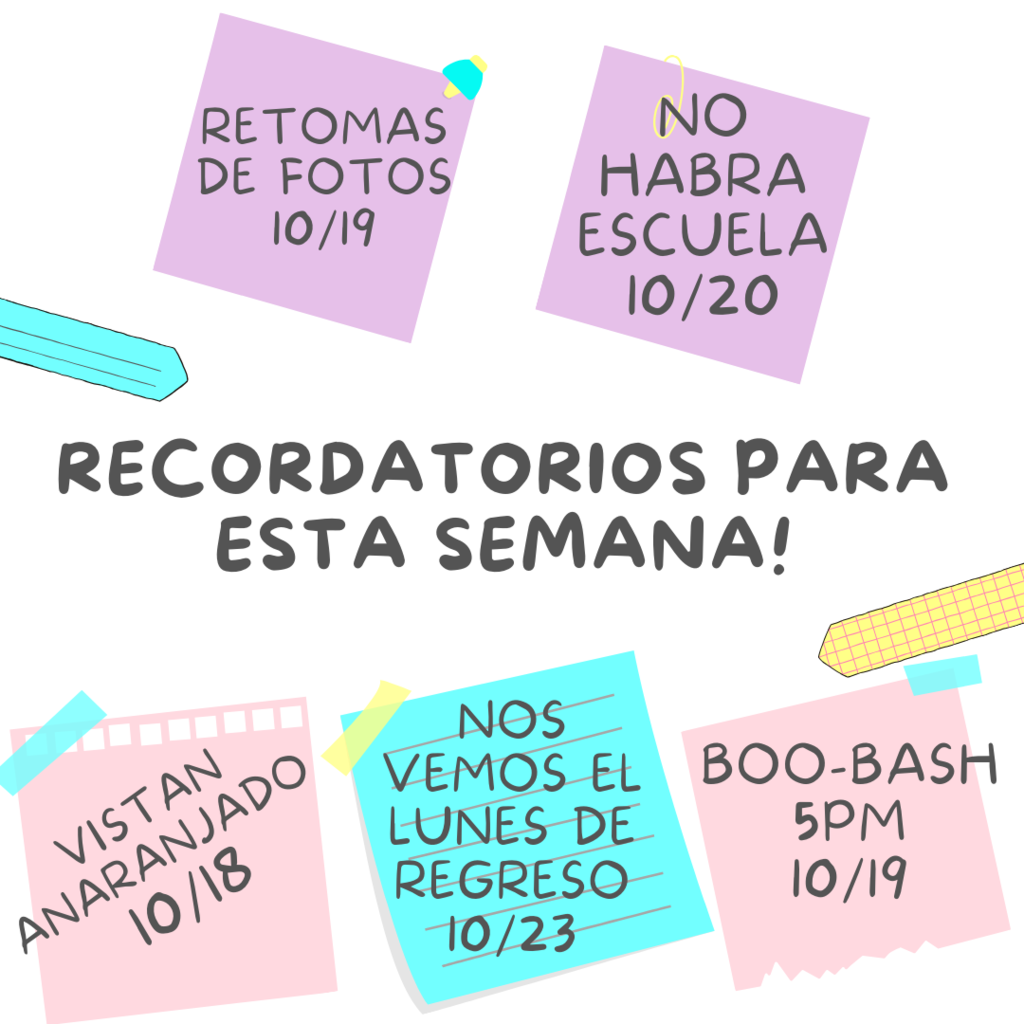 Oz-Some Scholar Award 10.16.23 Mrs. Tolbert & Mrs. Reed "While their teammates were at a training, Mrs. Tolbert and Mrs. Reed ensured their classes received the Tier 1 grade level instruction in Phonics. Thanks for living our mission of learning for ALL, while taking care of 'OUR' kids!"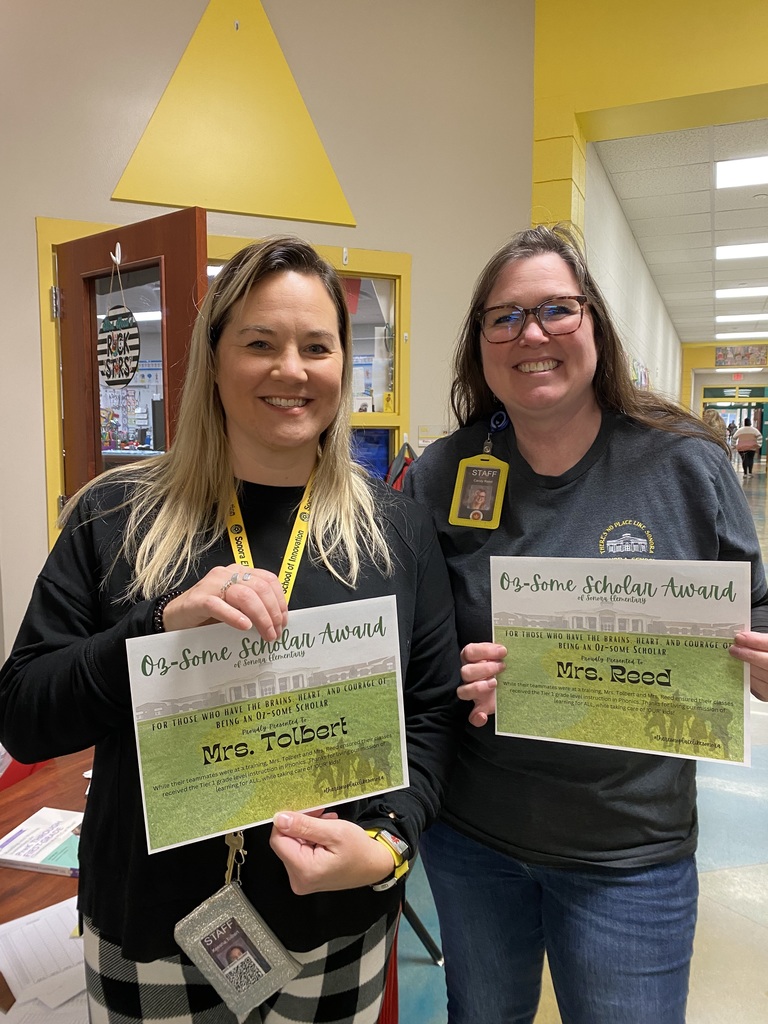 Oz-Some Scholar Award 10.16.23 Mrs. Hallmark "Kristen has a servant heart! Not only has she served in our PTA for multiple years giving of her time and creativity, she comes each morning to help with K-2 car duty! Kristen, you are a blessing to our school community."
A huge HOOT to Ms. Rhodes (LJHS) and Ms. Wallis for providing 3 nights of fun hands on geological engineering activities for 4th and 5th grade Scholars. Our Scholars are learning: Geological facts about the earth. How engineers design and build bridges, cell towers, and buildings. What does an engineer need to know in this field? How do I become an engineer? Do I need math and science to be and engineer? Do engineers have fun? Next week we will see how their haunted houses (they engineered and built) stand up to an earthquake!
Oz-Some Scholar Award 10.9.23 Mr. Worthy Nominated by Alivia Imler "Mr. Worthy came to the backpack rescue when my bag tore at school. It's my absolute favorite bag. Mr. Worthy told me to bring it to his class for him to fix. Mr. Worthy SEWED it up perfectly & saved the day!! Thank you for taking the extra time & care to help me fix my favorite backpack!"
Come join us for this great event! If you wish to donate candy for the event drop it off at the office for SPD and SP&R. ¡Únase a nosotros en este gran evento! Si desea donar dulces para este evento, por favor de dejar en la oficina para SPD y SP&R.
Tuesday folders went out today, very important information inside. Flu shots forms must be returned in as soon as possible. Las carpetas de día Martes salieron hoy, contienen información importante. Por favor de regresar formularios de la vacuna lo mas pronto posible.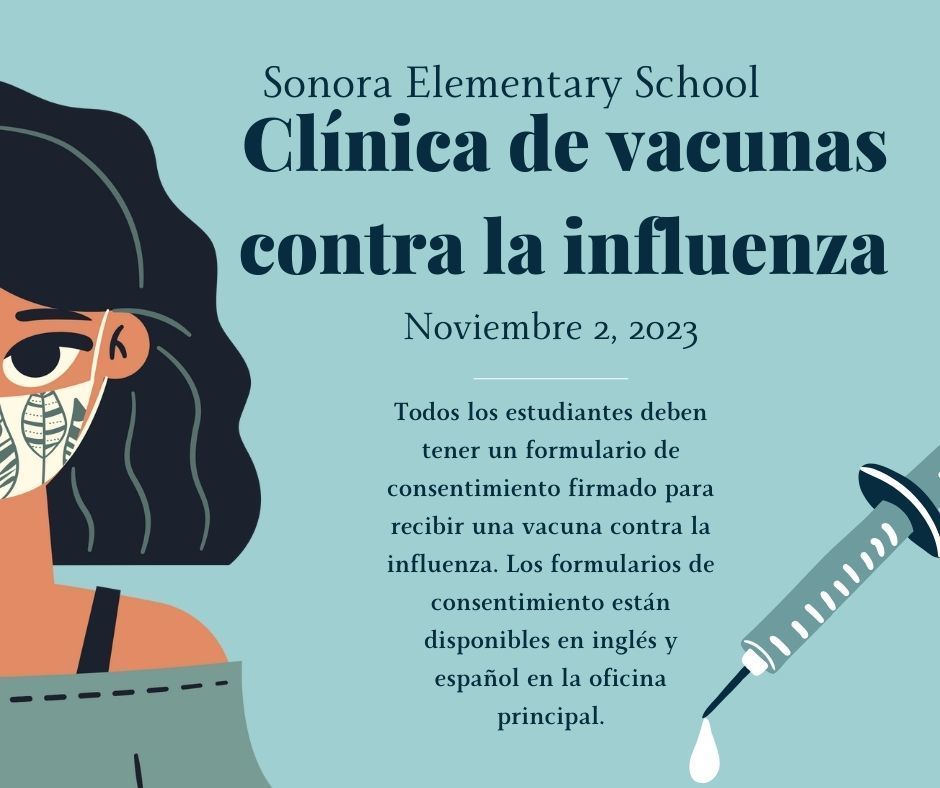 Brent Higgins Trucking has just donated 9 pallets of FRESH Rotisserie Chickens! You can take a couple of cases home with you to stock up for the holidays! First come first serve.Park-n-PIck Up TODAY starting at 12:30 at the Treehouse Pantry located at 802 W. Allen. FRESH ROTISSERIE CHICKENS (not frozen, not cooked) FRESH Please park in the hospital parking lot to the southeast of the Treehouse Pantry and wait for the Semi trailer to leave before walking over to pick the chicken. We are so thankful for this partnership with Brent Higgins Trucking! Treehouse Pantry Park-n-Pick Up Rainin jino ilo 12:30 first come, first serve nan ne remaat! FRESH ROTISSERIE CHICKENS (rejjab kwoj, ak reikood) REKAAL Jouj im park ilo parking ne an Hospital ituen in wot Treehouse Pantry e im kotar an semi trailer en etal im konej itok im pick up e free chicken en. Elap am likun kamolol kin jimjera in eman ibben Brent Higgins Trucking! Brent Higgins Trucking acaba de donar 9 paletas de pollos asados crudos. Puedes llevarte un par de cajas a casa para abastecerse para las fiestas! Se le sirve en orden de llegada. Estacione y recoja hoy a partir de las 12:30 en el Treehouse Pantry ubicado en 802 W. Allen Ave. Springdale AR, 72764. Pollos asados crudos no congelados ni cocidos. Estacione en el estacionamiento del hospital al sureste del Treehouse Pantry y espere el semirremolque para salir antes de caminar a recoger para recoger el pollo. Estamos muy agradecidos por esta asociación con Brent Higgins Trucking!
Parents of 4th and 5th graders: Please see the attached flyer with information about two upcoming opportunities for interested Scholars. The classes will close at 15 (Diesel Technology) and 20 (Geological Engineering). Register now through the QR Code to reserve your families' spot!