We are not able to celebrate this special lady in person, but we still wanted to show how important she is to our Sonora family. We love you, Dr. Stewman!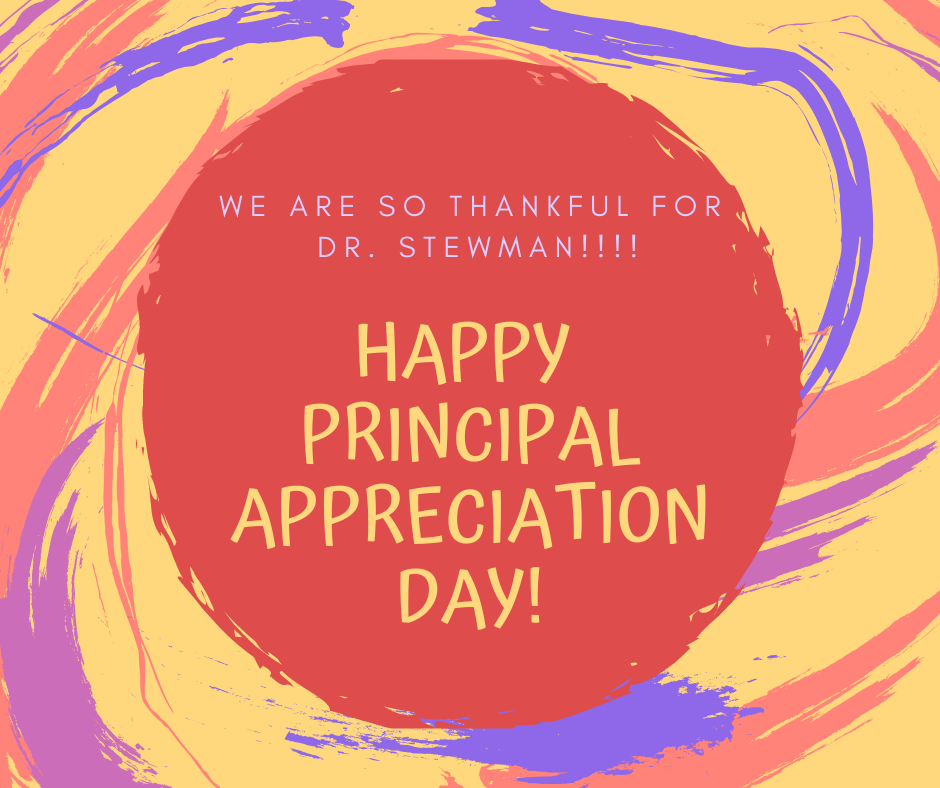 Our AMI packets are available on the web at
http://go.sdale.org/AMI
, or look for the AMI button on your schools' website. In addition to the required lessons, you'll find helpful resources for each grade level including videos and translations for grades K - 2. Please contact your child's teacher if you have any questions. Thank you for your continued partnership and support. ------- Nuestros paquetes de AMI están disponibles en la web
http://go.sdale.org/AMI
o busque el botón AMI en el sitio web de su escuela. Además de las lecciones requeridas, encontrará recursos útiles para cada nivel de grado, incluyendo videos y traducciones para los grados K - 2. Por favor, póngase en contacto con el maestro de su hijo si tiene alguna pregunta. Gracias por su continua colaboración y apoyo. ------- AMI packet ko am rebed ilo website ne
http://go.sdale.org/AMI
, ak bukot ilo AMI button eo ilo website eo an jikuul. Kakobabalok ilo lesson ko kom aikuj kommani, kom naaj loe resource ko renaaj lukkun jiban nan kajojo kireet labol ekoba video im ukook ko nan kilaaj K - 2. Jouj im kirlok rikaki eo an ajiri eo najim elane ewor am kajjitok. Kommol kin am wonmaanlok wot im paatnor ippam im barainwot jappoot ko am rellap.

Next AMI Distribution will be Wednesday, April 29th from 8 - 3 p.m. We will be at the front of the building. Please place a car tag or sign in your window as you pull up parallel to the front doors. The items will be brought to you. See you (from a distance) soon!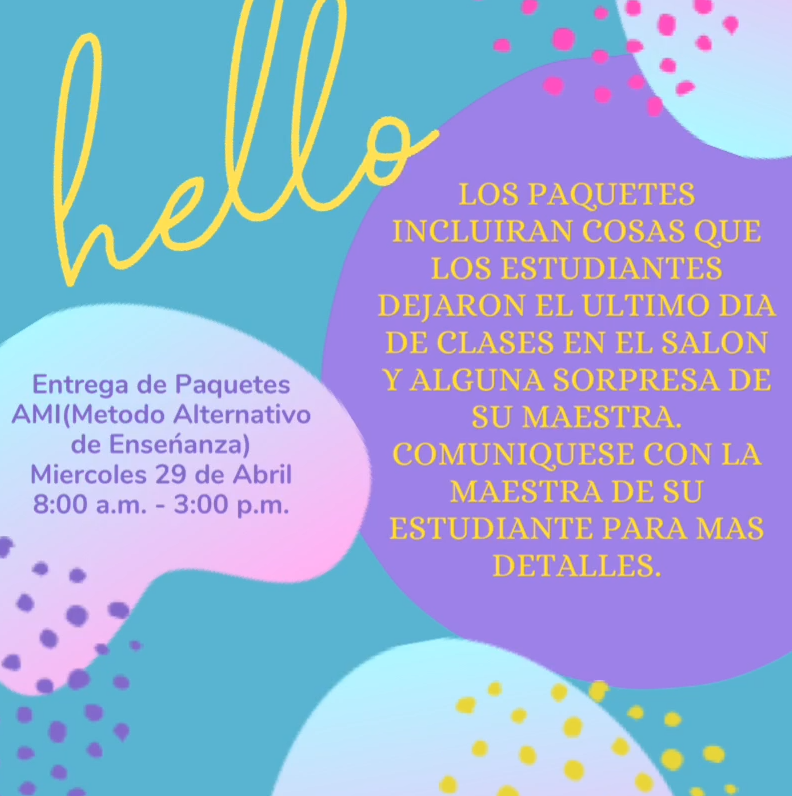 Check out this idea to celebrate Earth Day.

If you are still needing to enroll for next year, including K, we have placed some paper packets on our front porch. You can also still enroll online. Kindergarten: shorturl.at/fGW19 1st - 5th (English): shorturl.at/deijl 1st - 5th (Spanish): shorturl.at/nzJW6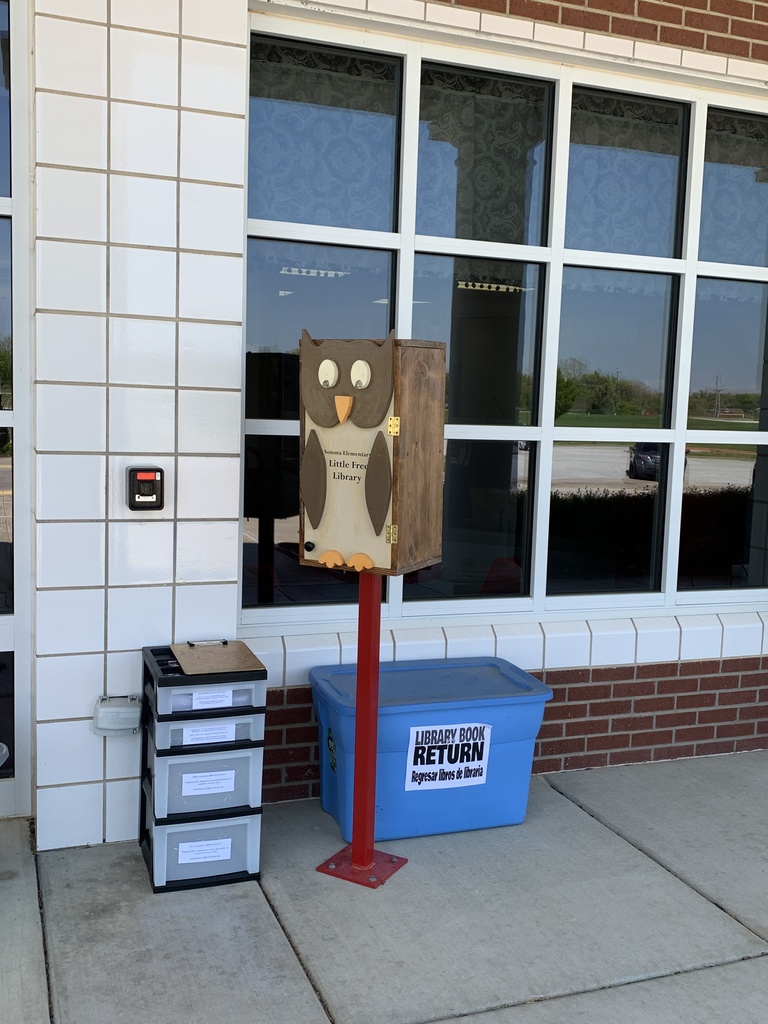 Vean nuestro video sobre nuestro plan de cómo los padres pueden involucrarse y proporcione sus ideas. Queremos hacer nuestra escuela aún más fuerte para todos nuestros estudiantes necesitamos de su ayuda con sus comentarios. Video: shorturl.at/ghknT Survey: shorturl.at/gkBC5

Please watch our video on the parent engagement plan and provide feedback. To ensure we can make Sonora an even stronger school for all of our students and families, we need your comments. Video: shorturl.at/kvxFT Survey: shorturl.at/bekyW (English)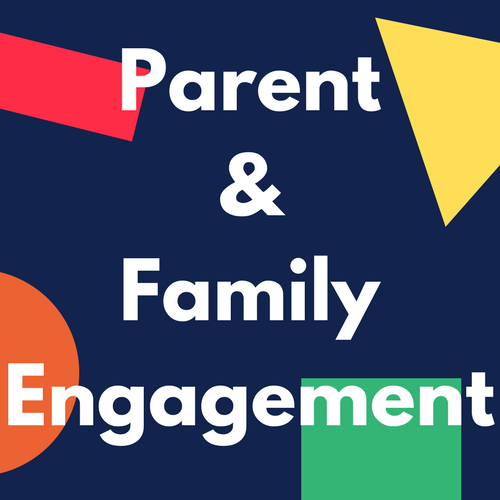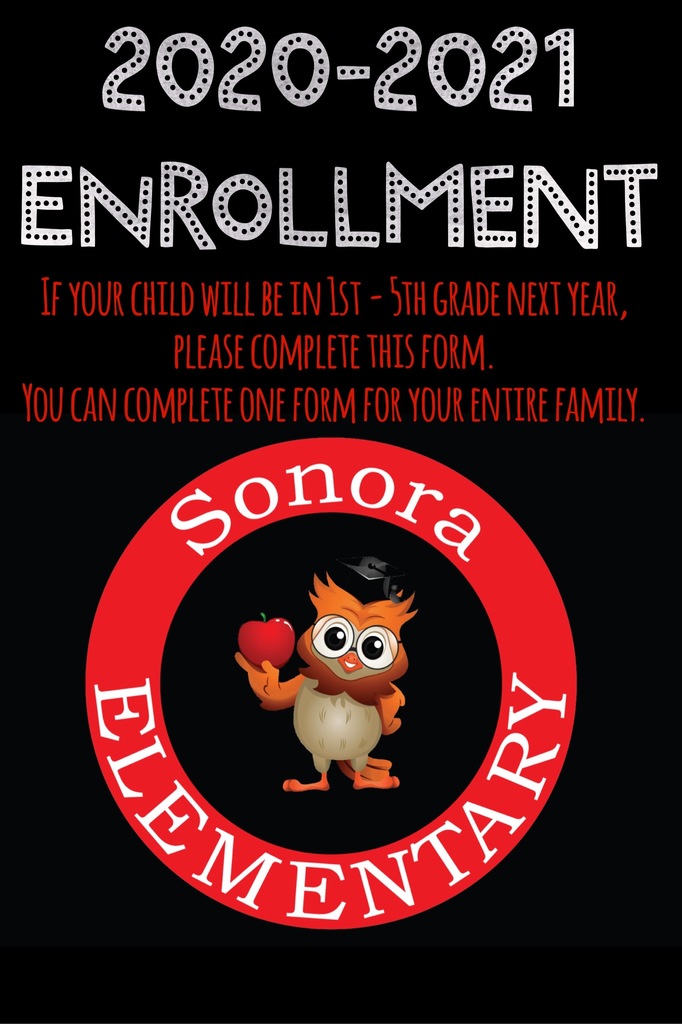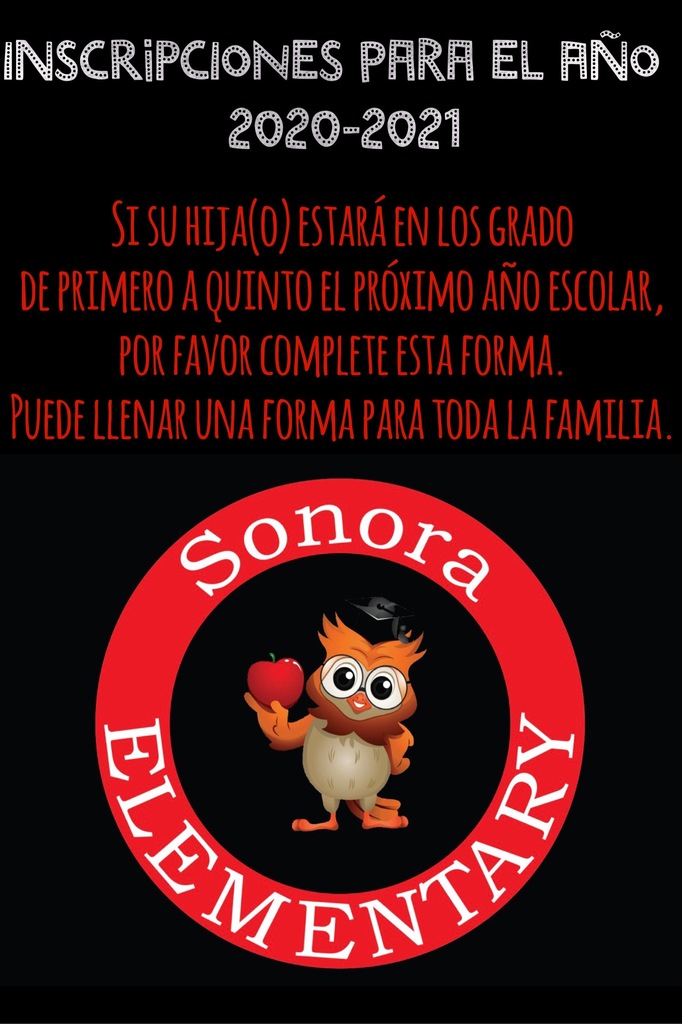 Happy National Assistant Principal Week, Mrs. Hennarichs! Thank you for keeping us safe, making us feel loved, & being kind.


As we continue our AMI learning, our specialty teachers have created a website that has everything you need for Art, Library, P.E., Counselor, Enrichment, EAST, and Music. It will be updated weekly, so please continue to check it out!
https://scholarlyspecials.weebly.com/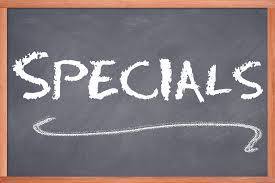 If you were unable to download or pick up your child's AMI packet today, this is for you!

Here is the information regarding the changes to meal distribution next week.

Families, We will be distributing AMI packets tomorrow. If you have not received the schedule, please look on Facebook or contact your child's teacher. We have also tried to attach it to this message. Familias estaremos entregando los paquetes de trabajo (AMI) mańana, por favor revise los horarios en Facebook o contacte su maestra. Los horarios estan en este mensaje.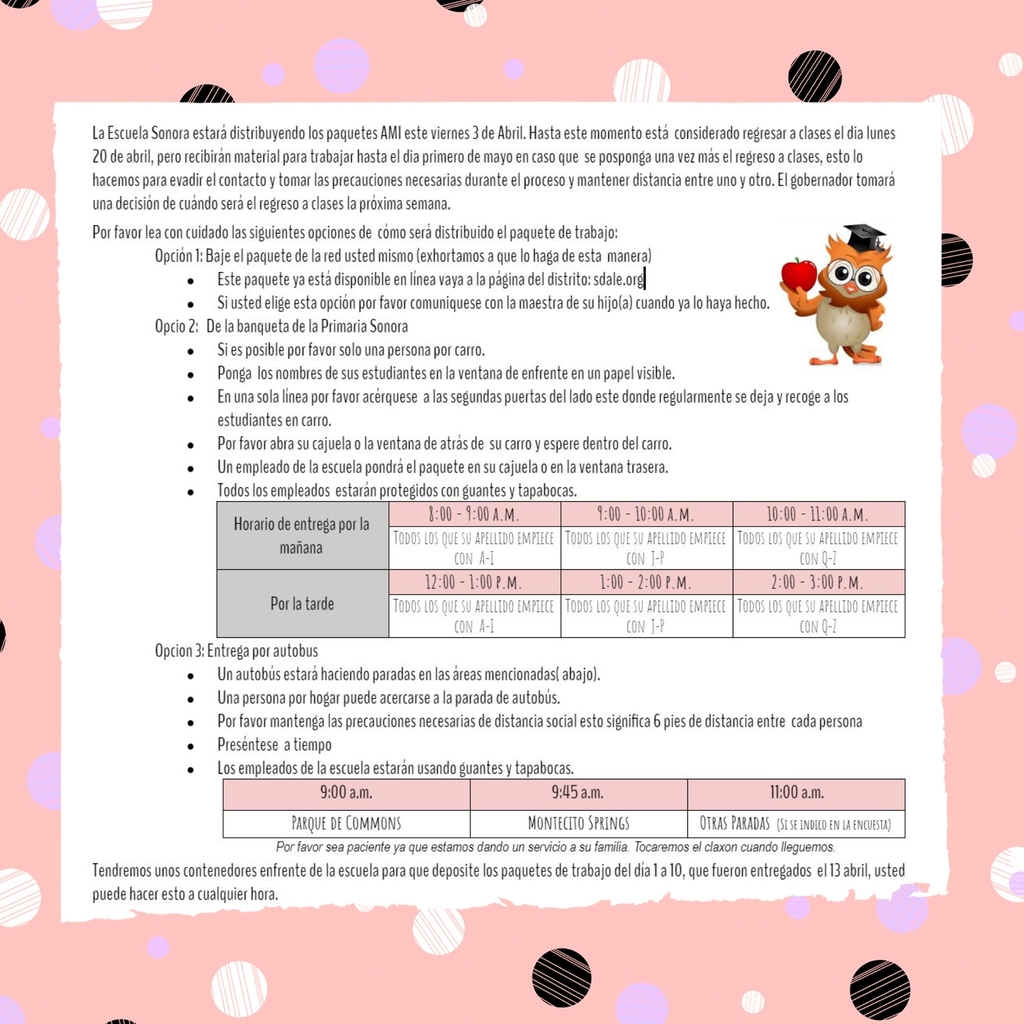 Parents, please see the plans for AMI distribution.

1. Walk/drive around your neighborhood to find a bear. 2. Take a picture of the bear with your phone. 3. Click on this link and fill out the survey.
https://arcg.is/1G8f0O0
4. Answer the questions on the survey. 5. Click Submit (For more info. watch Facebook Live w/Worthy.)

If you are in need or if you can provide. We're in this together!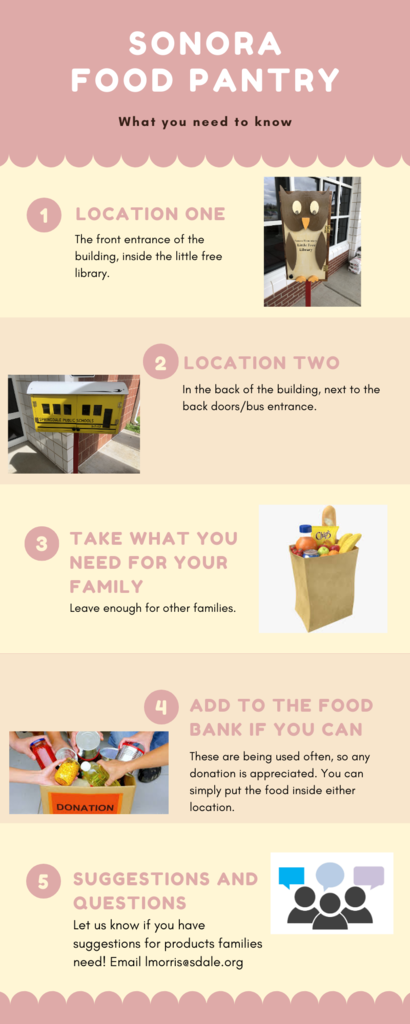 For those families that follow us on Facebook, please be sure to tag or follow this page linked below, which is our official page. Do not use the Sonora Elementary School since that is only a location page. Thanks!
https://www.facebook.com/sonorascholars/